Allemaal zaken die nodig zijn als je het maximale wil bereiken maar uiteindelijk beleef ik het meeste plezier aan al deze "regeltjes" aan mijn laars lappen
1. Lieve schat, er gaan soms wat geruchten over jouw komende seizoen. Ze denken vaak dat je besloten hebt om volledig te stoppen met triatlon. Maar die indruk heb ik (Christine Verdonck – nvdr) toch niet. Hoe zit de vork nu echt aan de steel?
Om een lang verhaal kort te maken: Ik kon niet echt de motivatie vinden om opnieuw zo goed als alles in het teken van triatlon te zetten. Vooral het eindeloze gepuzzel en het zoeken naar trainingstijd begon toch ten koste van het plezier te gaan. Omdat ik dit niet wou, heb ik besloten om het een jaartje wat rustiger aan te doen. In tegenstelling tot wat velen denken, wil dit nog niet zeggen dat ik volledig stop met triatlon. Ik ga nog geregeld mee trainen maar voel me tot niets verplicht. Of er veel triatlonwedstrijden zullen van komen dit jaar denk ik niet. Al zijn er toch een paar die ik niet zou willen missen.
2. Afgelopen seizoen behaalde je voor de 5de keer een eindzege in de Achtkamp van Brasschaat. Dit bewijst dat je in veel disciplines je mannetje kan staan. Maar als je in triatlon toch zou moeten kiezen, waarvoor ga je dan? Offroad, Non-draftingcircuit, Sprint/kwart/halve… ?
Veelzijdigheid is inderdaad één van mijn sterke punten, maar tegelijkertijd is dit ook mijn grootste zwakte. Doordat ik alles graag doe, en in de meeste disciplines ook redelijk goed mijn draai vind, kan ik geen keuze maken. Ik probeer alles dan maar te combineren waardoor ik nooit specifiek genoeg kan trainen en ik overal een stapje te kort kom tegenover de specialisten in hun vak. Ik heb al vaak gedacht om me misschien toe te leggen op één specifieke discipline maar ik kan gewoon geen keuze maken. Elke discipline heeft zijn charme en ik zou geen enkele kunnen laten vallen. Moest er ooit een klassement ontstaan waarbij alle disciplines moeten gecombineerd worden, zal ik op de eerste rij klaar staan.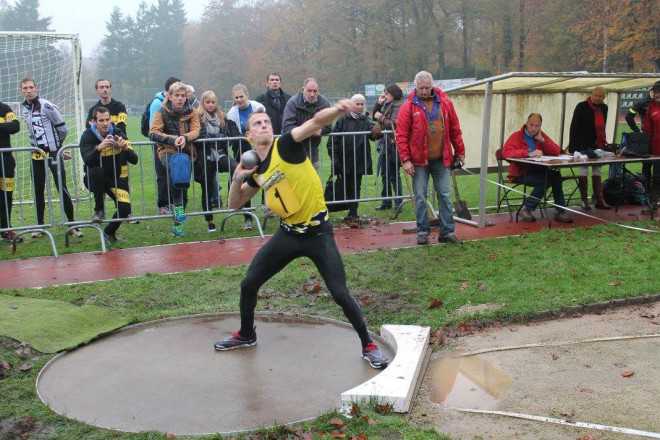 3. Wat vind jij het belangrijkste aspect om levenslang te willen blijven sporten/trainen?
Het klinkt enorm cliché maar in mijn ogen is de enige manier om levenslang te kunnen sporten dat je je sport met plezier beoefent. Voor mij persoonlijk betekent dit dat het allemaal niet te serieus moet zijn. Trainingsschema's op de letter navolgen, op je voeding letten, stabilisatie trainingen, stretchsessie, ochtendpols pakken, voldoende rusten, … allemaal zaken die nodig zijn als je het maximale wil bereiken maar uiteindelijk beleef ik het meeste plezier aan al deze "regeltjes" aan mijn laars lappen. Niets is leuker dan een rustige duurtraining die begint met een klein onschuldig tussensprintje en die uiteindelijk ontaardt in een ware koers waar iedereen zit te happen naar adem.
Wie wordt het volgende slachtoffer voor de 3quest?
Ideale partner in crime voor deze toestanden is natuurlijk de legendarische Barry "Blue Balls" Schrooyen, naar wie mijn 3 vragen zullen gaan.
Sommige atleten moet je aansporen om op training eens diep te gaan. Anderen moet je dan weer juist wat temperen. In mijn ogen behoor jij duidelijk tot de 2de categorie? :-)Â Hoe komt het dat je soms niet te houden bent op training? Is dit altijd zo of is dat enkel wanneer ik erbij ben?
Jouw (fictieve) reisbureau "Barry Tours" (ontstaan omdat Barry meestal alles regelt voor de stages) is de laatste jaren echt wel uitgegroeid tot een begrip binnen onze kenniskring. Zo was er deze winter zelfs een eerste wintersportvakantie met Barry Tours. Zie je dit in de toekomst nog verder evolueren?
Als laatste vraag kan ik (jammer genoeg, haha) natuurlijk niet anders dan nog eens terug komen op jouw prestatie in Herderen vorig jaar. Het filmpje van je "Barry Blue Balls" haalde een enorm aantal kijkcijfers. Had je dit verwacht en hoe sta je hier zelf tegenover?
Foto's: Sport-Events, Ellen Rombouts en Chris Hofkens