Computerfabrikant Apple en spotswear fabrikant Nike sloegen een tijdje geleden de handen in elkaar. Apple is al jaren marktleider op de MP3-speler markt met de verschillende versies van hun Ipod. Heel wat mensen gebruiken die Ipod als metgezel tijdens hun looptrainingen. Beide partijen zagen hier een markt om die Ipod te gaan koppelen aan een foodpod om op die manier de snelheid en afstand te registreren. Dit jaar werd hun gamma uitgebreid met een armband voor mensen die geen Ipod bezitten.
Wij mochten van Shop2run dit speeltje testen en geven er zelfs eentje weg!
Nike+ & ipod
Het eerste speeltje dat we onder de loep namen, is de Nike+ met de ipod. In het pakketje zit een kleine sensor en een ontvanger die je op de connector van je ipod moet pluggen. De software voor de ipod zit op die ontvanger en installeert automatisch zodra die wordt ingeplugd. Op de ipod verschijnt een extra menu waar je je workout kan kiezen volgens tijd, afstand of calorieën. Het gebruik is heel simpel. Als je met je ipod overweg kan, kan je deze software gebruiken.
De sensor zit in een klein, licht, ovalen omhulsel. In de nieuwste loopschoenen van Nike zit in de linker schoen een uitsparing onder de inlegzool waar de sensor precies in past. Heb je geen Nike schoenen, dan kan je net als ik, de sensor in een houdertje vastklikken aan je veters.
Bij het starten van je workout kan je de ipod willekeurige muziek laten afspelen uit je bibliotheek, of je maakt de keuze uit je eigen afspeellijsten. Je kan zelf je eigen Powersong instellen, een nummer dat in je workout voor een extra boost moet zorgen.
Zodra je je workout start, krijg je een begroeting van 6-voudig Tour winnaar Lance Armstrong. Tijdens het lopen kan je op het scherm van de ipod je snelheid, afstand, tijd en calorieverbruik aflezen. De verlichting van de ipod valt na een tijdje uit, dus je moet even over de slider wrijven om de informatie te kunnen lezen. Ben je klaar met je workout, dan komt Lance je persoonlijk nog even feliciteren.
Na je workout, sluit je je ipod aan op je pc. De itunes software zal je automatisch vragen of je je trainingen wil opladen naar http://nikeplus.nike.com/nikeplus/. Het concept is zo bedacht dat je je trainingen online opslaat op die site, niet op je pc zelf. Op die site krijg je een overzicht van je workouts.
Om een correcte weergave van je snelheid te hebben, is het aan te raden de sensor eerst te callibreren. Om dit te doen trok ik naar de piste. Op de ipod stel je in dat je 400m loopt, waarna je 1 rondje op de piste loopt. Na die ronde zal de ipod de gemeten afstand aanpassen tot de effectieve 400m en de correctie opslaan.
Conclusie:
Voor 29€ is dit een leuk gadget voor je ipod. Het is makkelijk in gebruik en flashy zoals alle producten van Apple. Eens gecallibreerd is de meting vrij nauwkeurig. De informatie is tijdens de workout van het schermpje af te lezen. Na de workout krijg je enkel een samenvatting, geen gedetailleerde grafieken zoals bvb met een Polar.
Nike+ & armband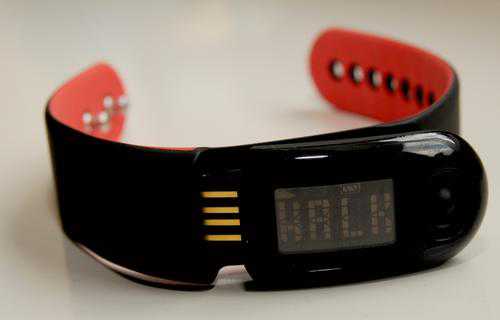 Voor mensen die niet over een ipod beschikken, werd een armband gemaakt waar een ontvanger op gemonteerd zit. Die sensor heeft een USB aansluiting om via je pc de sensor in te stellen, de gegevens van je trainingen op te laden naar de http://nikeplus.nike.com/nikeplus/ site en de batterij op te laden.
Alvorens je de USB aansluiting in je pc stopt, dien je eerst de software van bovenstaande site te downloaden en te installeren. Hier liet Apple een steek vallen. De software installeerde correct, maar werd niet toegevoegd aan het Start menu en er werd geen icoontje op de desktop geplaatst. Voor iemand met PC kennis is dat geen echt probleem, maar voor een leek is dit eigenlijk onaanvaardbaar.
Het display is een LCD display zonder backlight (geen verlichting achter het display). Dat maakt het aflezen niet altijd even makkelijk. Het display is wel vrij groot, maar de info die er op verschijnt is vrij beperkt. De info op het scherm staat evenwijdig met de armband, dit in tegenstelling tot een gewone horloge waar de info loodrecht op de armband staan. Ook dat maakt het aflezen iets moeilijker.
Op de armband staat 1 grote knop om het systeem te activeren, en een klein knopje om te selecteren wat er op het display verschijnt. De bediening is dus heel simpel gehouden.
Conclusie:
Dit gadget kost 60€. Daarvoor krijg je de sensor en de armband met ontvanger. De informatie op het schermpje is heel beperkt en moeilijk leesbaar. Dit is eigenlijk veel te duur voor wat je er mee kan doen.
We geven het testmodel van de Nike+ & armband op 20 juli weg aan iemand die in de atletendatabase is geregistreerd. Nog niet geregistreerd? Doe het dan nu.