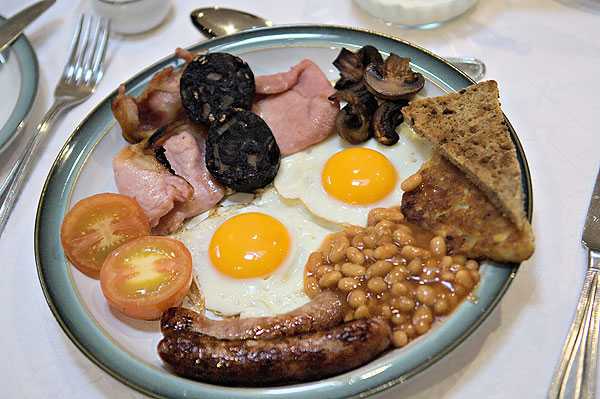 Het ontbijt is zo wat de belangrijkste maaltijd van de dag.
Engelsen zijn verzot op spek en eieren, Amerikanen draaien hun hand niet om voor een bord witte bonen in tomatensaus, terwijl Italianen al genoegen nemen met een kop sterke koffie en een boterkoek.
Voor een sporter is het schter belangrijk om voor een licht maar energierijk ontbijt te kiezen. Zeker wanner je al vroeg aan een lange training begint.
Test jezelf
's Ochtends zijn je energiereserves uitgeput en vraagt je lichaam naar eten. Maar let op, je spijsverteringssysteem moet laangzaam wennen aan het ritme van de dag. Je moet jezelf testen welk ontbijt je het best aankan. Niet iedereen kan van 's morgens vroeg zitten bunkeren.
Granenontbijt
Over het algemeen voelen sporters zich best met een granenontbijt. Muesli bevat voldoende koolhydraten en eiwitten om gedurende een lange tijd energie te leveren. Daarnaast zitten er voldoende vetten in om het hongergevoel te verbannen.
Een lekker en voedzaam ontbijt kan er als volgt uitzien:
Ingrediënten:
Muesli
Corn Flakes
een banaan
een appel
een kiwi
2 sinaasappels
magere yoghurt
een snuifje vanillesuiker
Bereiding:
– Pers de sinaasappelen als drank bij het ontbijt. Heb je het liever iets zuurder, kan je er een halve citroen bij persen.
– Snij de rest van het fruit in hapklare stukjes. Tip: doe dit boven het bord of de kom waar je nadien uit zal eten. Zo gaat er geen sap verloren.
– Gooi een handvol muesli en ongeveer even veel corn flakes in je bord of kom, waar ook al de stukjes fruit in liggen.
– Overgoiet alles met de yoghurt, en voeg er naar eigen smaak wat vanillesuiker aan toe. Roer alles goed door elkaar.
– Vergeet niet voldoende te drinken tijdens en na het ontbijt. Elke gram koolhydraten heeft namelijk 1ml water nodig zich aan te binden. Een gouden regel is een grote slok water elke 10 minuten van de dag.