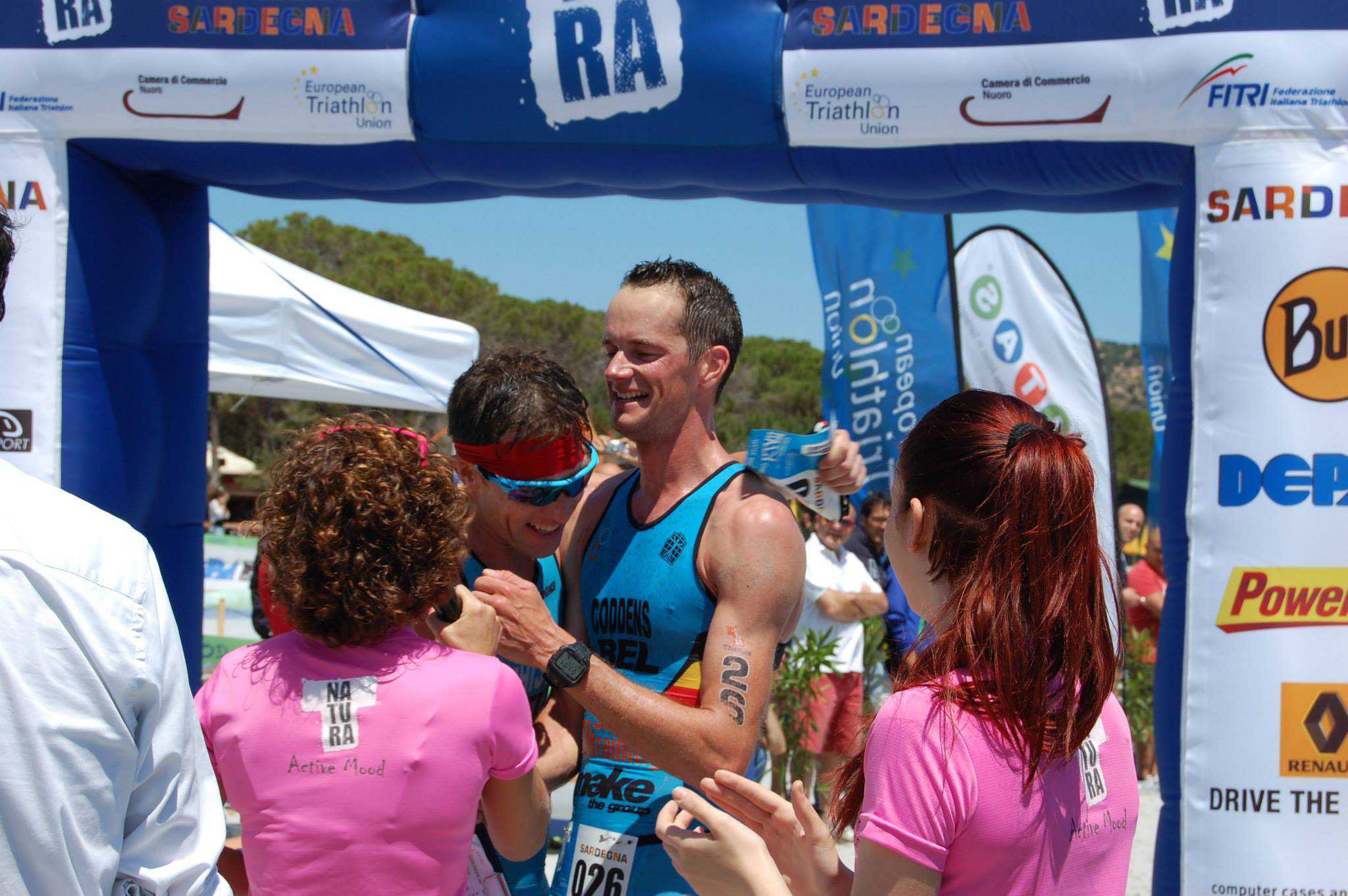 Dat Kris Coddens in de vorm van zijn leven zit, mag duidelijk zijn. Op het EK Crosstriatlon in Sardinië domineerde Kris samen met Jim Thijs. Jimbo pakte brons, maar de Europese titel ging verdiend naar FTT'er Coddens. Met Seppe Odeyn op 11 was de Belgische heerschappij indrukwekkend. Crosstriatlon is de offroad-variant van een gewone triatlon. In Sardinië kregen de deelnemers een stevig zwemparcours en vooral een technische mountainbikeproef voorgeschoteld.
"Normaal zat ik nu op de LCMT om mijn mountainbike niveau nog wat op te krikken, samen met een paar ploegmakkers van FTT", begint Kris. "Ik vind het jammer dat ik daar niet bij ben, maar wat ben ik blij dat ik last minute besliste om toch naar Sardinië te komen. De voorbereiding nam nog een drastische wending en de vorige 2 weken werd er hard getraind wat in combinatie met het werk misschien wat zwaar was. Een verkoudheid kwam maandag nog roet in het eten strooien, maar deze leek gisterenavond net op tijd voorbij.
Het parcours was prachtig. Zwemmen in een zee zo klaar als een zwembad, fietsen op een heel afwisselende omloop en lopen over hangbruggen, singletracks en over het strand. Zwaar maar heel mooi.
De race dan:
Het zwemmen was best lastig omdat er een beetje wind stond met bijhorende golfslag. Ik denk dat ik het er voor mijn doen behoorlijk vanaf gebracht heb, maar zoals gewoonlijk had ik geen idee rond welke positie ik uit het water kwam. Gelukkig stonden er in de wisselzone toch nog een deel fietsen bij de elites.
Op de fiets draaide ik meteen de gas open en dat leek behoorlijk te lukken. Op de eerste lange klim kon ik kracht zetten en ik begon goed in te halen. Na een kilometer of 10 kwamen we bij de klim waar de fiets op de rug moest en daar haalde ik Jim Thijs bij. Het gevoel was bij mij iets minder en ik dacht even dat m'n verkoudheid nog sporen na liet maar wellicht was het eerder door het harde rijden dat ik me niet te fris voelde. Jim en ik bleven samen en ik stond te kijken van zijn fietsprestatie. Z'n problemen van de vorige jaren lijken van de baan. Verder in de tweede ronde had ik het gevoel dat ik verzwakte wat misschien wel normaal was. Op zo'n 10km van het einde begaf echter m'n rechter pedaal waardoor ik op de as moest verder rijden. Niet echt goed voor de moraal maar toch had ik het gevoel er weer wat door te komen. Misschien ook omdat ik niet zo veel kracht meer kon zetten. Jim leek vertrokken maar op de laatste vlakke stukken had ik minder last van de pedaal en kon ik hem tot mij vreugde weer bijhalen tegen de laatste wissel. Het was leuk dat we zo lang konden samenwerken.
Dat wist ik toen nog niet maar blijkbaar hadden we met onze Belgische trein op 1 Fransman na iedereen ingehaald. In het lopen kon ik van Jim weglopen en hoorde ik toeschouwers iets van 20 seconden zeggen. Ik begon door te hebben dat dat wel eens over de eerste kon gaan en toen ik even later 10 hoorde zat m'n moraal weer helemaal goed. Na 2km had ik de eerste bijgehaald en kon ik de kop overnemen. Het was nog wat zoeken naar het tempo dat ik moest aanhouden want ik zat echt niet meer fris en het loopparcours was best lastig. Af en toe eens achterom kijken gaf me wel vertrouwen en het was een magisch moment om over het strand naar de finish te lopen. De Fransman Forissier werd 2de en Jim Thijs tevreden 3de, gevolgd door Jan Kubicek en Tomas Kubek. Ook ploegmaat Seppe Odeyn werd bij z'n allereerste triatlon nog mooi 11de.
Om af te ronden nog een grote dankjewel aan de mensen die dit voor mij mogelijk maken. Op de eerste plaats mijn vrouwtje Lies, de rest van mijn familie, het Flemish Triatlon Team en sponsor Make the Group. Het deed me ook deugd de erkenning van de VTDL te krijgen door mij officieel te selecteren al hadden daar misschien nog namen mogen bij staan" aldus het uitgebreide verslag van de kersverse Europese kampioen.