Het is een oud gezegde onder triatleten en het blijft actueel: "If your pipi on race day is yellow, not good"… We hoorden de anekdote vorige week in Barcelona nog vertellen en er werd hartelijk om gelachen, maar het is wel een waarheid als een klok. Want minstens even belangrijk als training en voeding is onze drinkgewoonte. Het gevaar van dehydratatie loert om de hoek wanneer je onvoldoende drinkt voor en tijdens een wedstrijd. En het is bewezen: als je urine donkergeel van kleur is, dan ben je te weinig gehydrateerd… Met alle gevolgen vandien.
Om het belang van een goede hydratatie uit te leggen is volgende grafiek een duidelijk voorbeeld: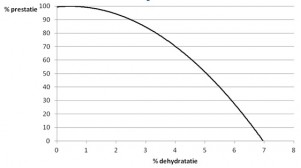 Zoals te zien op deze grafiek daalt ons prestatievermogen afhankelijk van onze hydratatie. Elke 15 minuten verliezen we ongeveer 1% van ons vochtgehalte in ons lichaam, wat dus neerkomt op 4% dehydratatie na een uurtje sporten. Vanaf 2% dehydratatie zal er snellere vermoeidheid optreden en vanaf 4% kunnen krampen ontstaan.  Uiteraard is elke persoon anders en zijn dit theoretische cijfers. Maar toch, liever voorkomen dan genezen!
Er zijn verschillende manieren om uw hydratatie niveau te bepalen. Dit kan door u te wegen voor en na de training:
% dehydratatie = (gewicht voor – gewicht na) x 100. Per kilogram verloren gewicht is er anderhalve liter vocht nodig om het tekort aan te vullen!
Een andere mogelijkheid is de kleur van uw urine analyseren.
Aan de hand van dit overzicht kan u analyseren in welke mate u gehydrateerd bent:
Maar hoe moeten we dit alles nu voorkomen? Alles begint al tijdens uw dagelijkse gewoontes. Buiten het sporten is het aangewezen minstens 1,5 liter water te drinken, bij warme omstandigheden bij voorkeur 2 liter. Daarnaast zijn er ook producten die ons dehydrateren zoals koffie en alcohol!
Tijdens het sporten is het eveneens noodzakelijk te drinken, liefst 500-750 ml per uur (afhankelijk van de weersomstandigheden) Let er wel op dat ons lichaam moet wennen aan drinken tijdens de inspanning. Train dit dus!
Wanneer we langer sporten dan 60′ of sporten aan een hele hoge intensiteit is het nodig om een goede combinatie van vocht, elektrolyten en suikers in onze sportdrank te voorzien. Elektrolyten zorgen voor een betere vochtopname, voorkomen krampen, verbeteren de opname van suikers en stimuleren ons om te drinken. De belangrijkste hiervan is Natrium. Deze zorgt er voor dat het vocht wordt opgenomen en vastgehouden in het lichaam. Een goede sportdrank bevat tussen de 400-1100 mg natrium per liter (=1-3 g keukenzout) De concentratie is afhankelijk van de weersomstandigheden. Bij heel warme omstandigheden kan het aan te raden zijn om een sportdrank met slechts 400 mg natrium te verrijken met wat keukenzout. Naast deze elektrolyten en vocht is het ook belangrijk om onze energiereserve aan te vullen. Onze maag is een gevoelig wezentje dus te hoge concentraties aan suikers is moeilijk te verteren. Daarom bevat een goede sportdrank tussen de 40 en 80 g koolhydraten per liter bereide sportdrank. Dankzij een goede combinatie van glucose/fructose (2/1) kan ons lichaam tot 90 g koolhydraten per uur opnemen. Meer is helaas niet haalbaar. Hoeveel suikers we moeten opnemen per uur wordt bepaald door uw lichaamsgewicht. Laat u hiervoor persoonlijk adviseren!
Een uitgebalanceerde sportvoeding en sportdrank is dus persoonlijk en niet altijd simpel. Elke persoon is anders en experimenteren is essentieel!
Als rode draad van dit artikel is het belangrijk om gehydrateerd te starten aan uw training, bij lichte trainingen van minder dan een uur is 500-750 ml water voldoende (eventueel met wat elektrolyten voor een betere opname). Indien een zwaardere of langere training gepland is, moet een goed uitgebalanceerde en persoonlijke sportdrank genomen worden (eventueel aangevuld met voeding afhankelijk van de intensiteit).